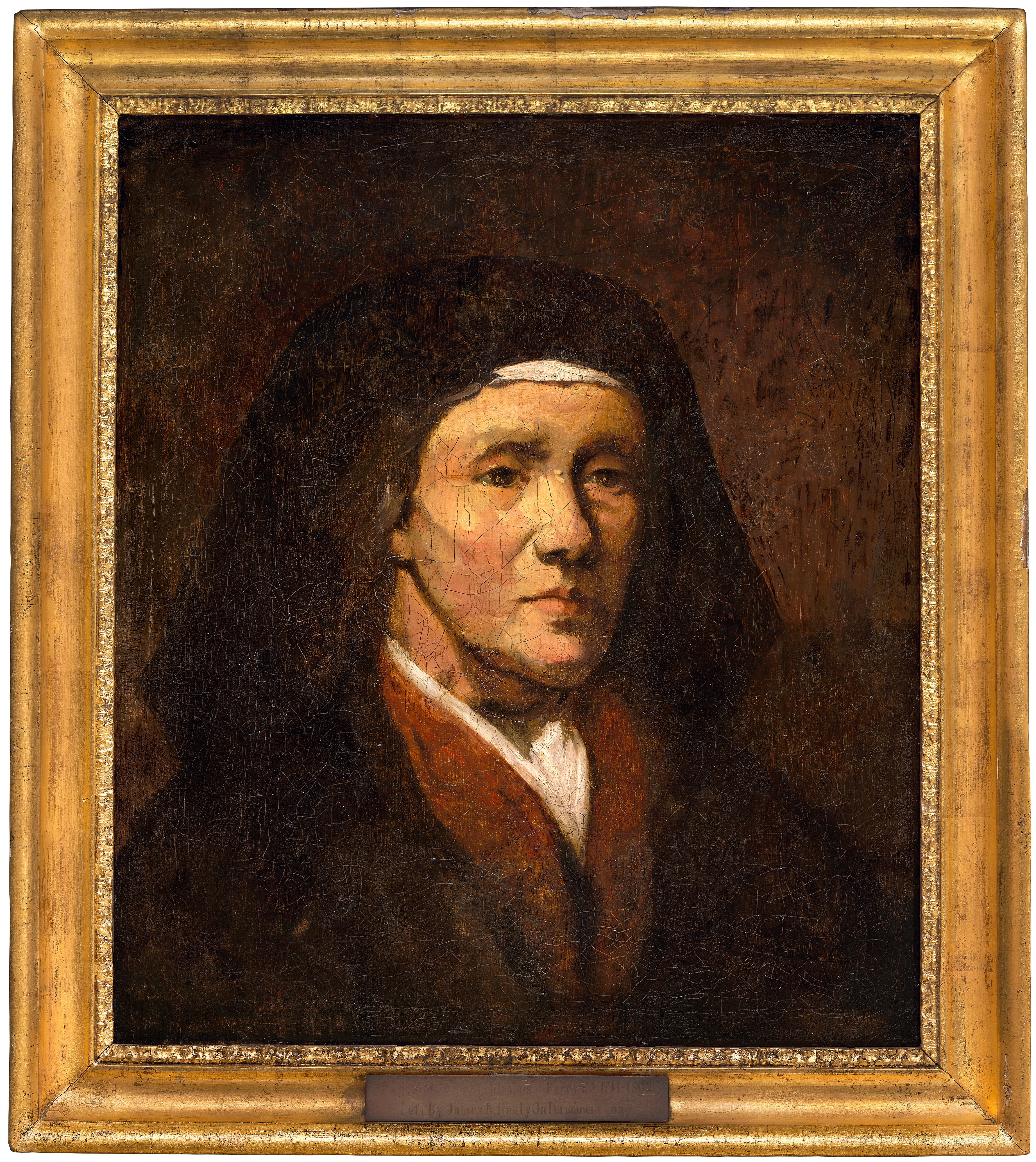 Honora (Ven. Nano Nagle) was born in Ireland in 1718. This was a bleak period of time in Irish history particularly in the area of education. Every school was closed, every teacher silenced and the people were condemned to a life of ignorant servitude. Any Catholic who dared to teach was subjected to heavy fines, confiscations and even periods of imprisonment. Ven. Nano's family was quite wealthy and they realized the importance of education, so they sent Ven. Nano to France, after she had received her earliest education at a hedge school near her home. In 1746, when Ven. Nano's father died, she and her younger sister Ann returned to Ireland. Ven. Nano's thoughts had often turned to the poor, especially to the children of Ireland, who because of their lack of education would continue to be oppressed. She wanted to do something for them, but didn't know how she could help. She entered a French Convent with an ardent desire to spend her life praying for her People. During this time, her thoughts continued to return to the appalling conditions of her own homeland. She was troubled by the meaning of these thoughts and what they challenged her to do. After some reflection she felt drawn to return to Ireland to serve the children and to teach them! Ven. Nano was a determined woman who worked tirelessly, in establishing and maintaining her schools. This was done at great risk to her and her family, as serving in this capacity was forbidden at that time.
Ven. Nano Nagle also began to visit the sick and the elderly after school, bringing them food, medicine and comfort.] She opened homes for aged women, and began conducting classes for adults. She went from hovel to hovel each day to gather the neediest people to teach. Night-time ministries to poverty-ridden elderly and sick in her home town gave Ven. Nagle the nickname The Lady with the Lantern. The lantern later became the symbol of the Sisters of the Presentation worldwide. When her own resources were depleted, she begged for money to help support the work being done in her schools. She opened homes for aged women, and began conducting classes for adults.
It was much later, in 1775 when Ven. Nano was 57, that she founded the society for Charitable Instruction, known later as the 'Presentation Sisters'. Ven. Nano continued to live and work tirelessly with her small band of Sisters until her passing away on 26 April, 1784. The Hiberian Chronicle of the day carried this obituary: Last Wednesday the indisposition of Miss. Nagle was announced in the sorrowing countenances of the poor of this city to whom she was the best of benefactors and patronesses. She died this day about noon and truly indescribable is the universal lamentation for the departure of a lady possessed of all that merit which for many years rendered her the object of unexampled admiration and acquired her the most unlimited esteem of all ranks of people.
Ven. Nano's spirit of selflessness, her determination in the face of certain persecutions, her struggle for justice, her devotion to the poor and her particular love for the children has become the source of inspiration for all those called to carry on the traditions and values of the Presentation Sisters. From such small beginnings, the Presentation Sisters extended their good work to other cities not only in Ireland but all over the globe. The pioneering Sisters began their work in India, in 1842. In this way, Ven. Nano's dream, "If I can be of service in saving souls in any part of the globe, I would willingly do all in my power," continues through the committed work of the Presentation Sisters worldwide. Ven. Nano is their role model today, as she shows herself to be a torchbearer of universal education: to one and all.
Legacy:
In 2000, Ven. Nagle was voted the Irish Woman of the Millennium in recognition of her importance as a pioneer of female education in Ireland. She was once voted Ireland's greatest ever woman in a public poll. She inspired Edmund Ignatius Rice, the founder of the Christian Brothers, to bring education to the poor people. The Presentation order has spread to 23 countries worldwide. Some of the schools founded by the Presentation Sisters are named after her, and her teachings are followed till today. The Roman Catholic Church officially opened Ven. Nagle's cause for canonization in 1984, the bi-centenary of her death. She was declared a Servant of God in 1994, and Venerable on 31 October, 2013. This beautiful poem of Raphael Consedine is a wonderful Portrait of Ven. Nano Nagle
"In the face of fear,
she chose to be daring,
In the face of anxiety,
she chose to trust,
In the face of impossibility,
she chose to begin.
To universal misery,
she proposed ministry to
persons;
To ignorance,
knowledge;
To disillusionment,
tenacity of purpose;
And to multiple vexations,
singleness of heart.
Faced with failure,
she held fast to hope;
Faced with death,
she believed in a living future;
A programme for the future
she gave in one word: LOVE."